Our goal is to make germ disinfecting accessible and affordable to both residential and commercial markets.
We want to protect against germs where people spend most of their time such as home, work, school and dorm rooms. GBC's surface coatings protect your most vulnerable surfaces where microbes thrive, such as floors, bathrooms and countertops.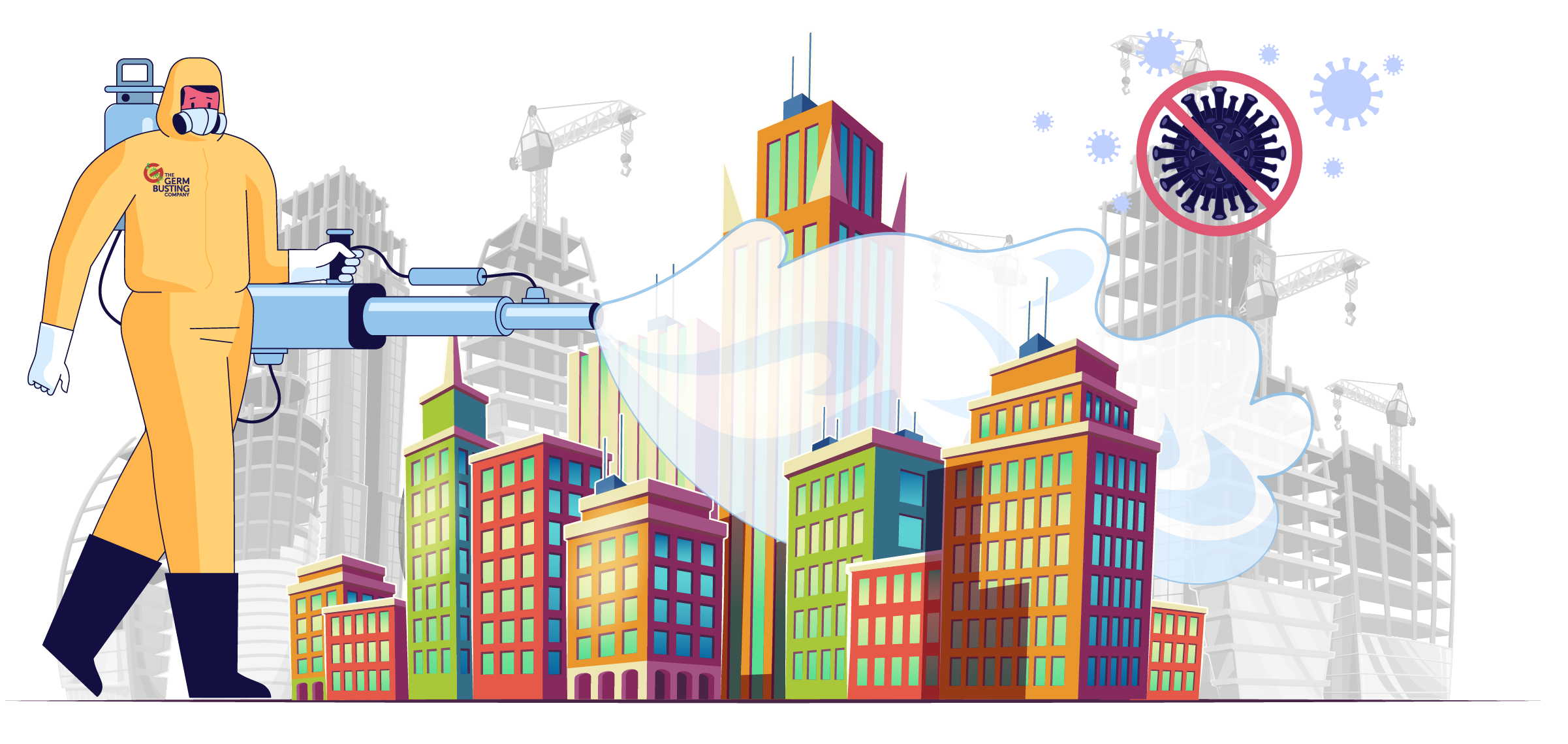 Residential

Apartment Buildings / Condos | Single-Family Homes / Townhomes | Senior-Living | College Dorms & Shared Living Spaces

Clean and Protect. The Germ Busting Company uses all-natural nontoxic cleaners and coatings to disinfect and protect surfaces in your home. Only the Germ Busting Company's two-step process cleans and protects high touch surfaces to ensure you are protected for weeks after we visit your property. Ask about GBC Surface Shield, which lasts up to 90 days!

Government

Government Buildings / Offices | Police Stations | FIre Stations | Military Bases

GBC's Standard two-step sanitize and protect is the most economical solution for very large facilities. A GBC technician will spray quarterly to ensure your facility is clean and protected with GBC Surface Shield.

Educational

Child Day Cares | Schools / Colleges / Universities | Libraries

Clean and Protect your facility with GBC Surface Shield quarterly service, which protects surfaces for 90 days against disease-causing germs, including viruses. With GBC's customized solutions, give parents, teachers, and students the peace of mind of a GBC-protected facility.

Athletic / Fitness

Gyms | Personal Training Studios | Yoga Studio

Excessive cleaning of equipment wears and discolors workout equipment. With GBC Surface Shield or Silver Protect, you can ensure your facility's equipment lasts longer and stays safe for your clients and gym members. With GBC's Stamp of protection, you can advertise that your facility is protected by The Germ Busting Company.

Commercial / Retail

Offices | Common Work Spaces | Restaurants | Theaters

Increase ROI and reduce cleaning time and with GBC's protective coatings. Our coatings begin working in a matter of seconds after contact by a customer or employee. GBC's protective coatings are self-cleaning and keep your surfaces clean and free of disease-causing germs. Give customers and employees alike the confidence of a GBC protected space and save time and money by reducing cleaning costs and preventing wear on surfaces.

Transportation

Aviation Facilities | Automobile Dealerships & Rental Car Dealerships | Taxi & Limousine

Perfect for the transportation sectors, GBC Surface Shield can be sprayed on all surfaces to protect your customers from Germ surface transmission. Ask about our hybrid system, which offers long-lasting protection on high touch points such as door knobs and countertops using GBC Silver Protect coating in addition to GBC Surface Shield on all other surfaces.

Healthcare / Medical

Hospitals | Clinics | Doctor's Offices | Veterinarian Offices

GBC uses EPA-certified cleaning products which are hospital-grade quality and highly effective against the most chemical-resistant Germs including C. Diff, MRSA and COVID-19. Protect expensive medical equipment with Silver Protect, which not only protects equipment from Germs but also prevents weathering, damage from UV and color fading. Extend the life of your equipment with GBC Silver Protect!

Manufacturing

Post Production Protection  |  Post Installation Protection

Coat your products with GBC Silver Protect as a last step in the manufacturing process. Economical and a great solution for manufacturers that want to offer clients a finished product with a highly durable antimicrobial coating. Although Silver protect is clear, an additive can be used to identify that the coating is still working on a product years after it comes off the assembly line. GBC Silver Protect is durable and protects surfaces from outdoor elements, UV damage and discoloration.

New Construction

Pre-Move in Protection  |  Residential  |  Commercial

The Germ Busting Company works with builders and developers to sanitize post-construction projects. Offer Silver Protect or Surface Shield is a great upgrade for residential and commercial builds. GBC Silver Protect is perfect for long-lasting protection on countertops, desks, door knobs, walls, concrete/tile floors, bathrooms and much more. As an added benefit, GBC Silver Protect is durable and helps to protect surfaces from outdoor elements, UV damage and discoloration.

Religious Facilities

Church | Temple | Synagogue

GBC's protective coatings offer an economical solution to help protect congregants from spreading germs. GBC is here to help safely bring communities back together by providing religious institutions and community centers with disinfecting services and long-lasting protective coatings to help ensure safety from surface contact. Ask about our hybrid service which provides very high-level protection and at an affordable cost for large facilities.
Our mission is to protect communities against harmful Germs. Residential or Commercial - We have solutions for everyone!
Reopening your office or school and in need of a routine disinfection schedule? We understand the stress and anxiety that comes with ensuring you and your employees remain in good health. Let our professionals help you keep everyone safe and germ-free!